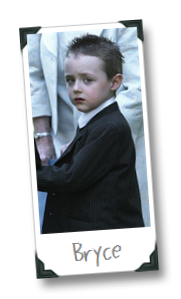 By the end of grade three, Daniel and I noticed a huge improvement on Bryce's behaviour and his communication. I honestly and strongly believe that it had everything to do with the people that he worked with on a daily basis at his school, including his classmates.
When Bryce's 9th birthday was nearing, a couple of his classmates asked if they were invited to Bryce's birthday party. I didn't even think about it since our first attempt of inviting 60 friends from school resulted in 6 classmates attending. But after talking with Daniel, we felt that this year was different. We invited Bryce's whole class to his birthday party and for the first time since kindergarten, Bryce had a birthday party with people outside of close friends and family. A real birthday party. He was accepted.
Despite that, my biggest fears did come true. Bryce has never been invited to any of his classmates birthday parties, or have a play-date, and sometimes kids make fun of him. But it doesn't get us down.